Bubble Diving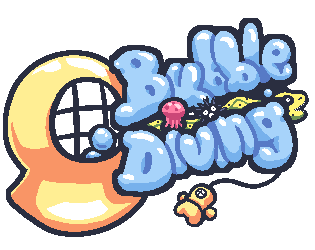 Ludum Dare 48
Dive down to 150m!
you are Hibu Bubble, a diver trying to get to an treasure down at the bottom of a trench, 150m deep.

But you have too watch out, because there are dangerous animals, and pay attention, that you don't run out of air!
You can refill your air with bubbles, which also slow down your fall. You can also use some of your air to create a bubble right below you, either to slow down your fall or to get rid of obstacles

Get the Treasure!

Three different levels
Cute artstyle
Adaptive music
A special treasure at the end :)
Controls:

Movement: WASD/Arrow Keys
Bubble Blast: Space
Personal note:

This is my first time participating in a game jam on my own, as well as the first game I made alone

I hope you like it!
Special thanks to WinRaph for his support!
Comments
Log in with itch.io to leave a comment.
Liked the game! Take a look at my video! I featured this game on it!